Hace unas semanas se desarrolló en Ibiza una nueva edición de la Vuelta Ibiza SUP, para remar alrededor de esta hermosa isla de playa en playa.
El comienzo fue en Cala Llenya, muy cerca del hotel Club Cala Azul, el viento lateral llevó a los riders a Talamanca donde terminó el primer día. Excepto por el mareo, no hubo problemas importantes en la primera etapa. Nuestro patrocinador principal, Mistral, nos proporcionó tablas inflables de SUP, matrassses de agua, banderas y lo más importante: una gran furgoneta Mistral Mercedes SUP. Todas las tablas de 14 pies podían ser transportadas desde el final de la etapa a nuestro hotel todos los días, esto hizo que el transporte fuera muy fácil. El único problema era trasladar  las tablas desde ell agua a la furgoneta de Mistral, pero Kai y Jimmy se encargarían de eso.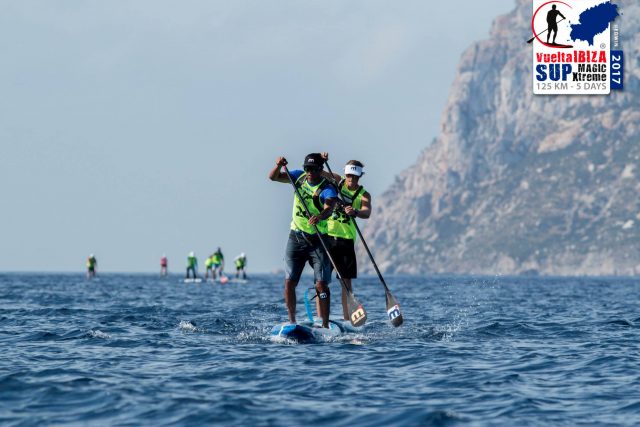 La segunda etapa nos llevó desde Playa d'en Bossa hasta Cala d'Hort, una de las más hermosas playas de Ibiza. Al día siguiente partimos de la misma playa y fuimos a Cala Salada, muy concurrida cerca de Sant Antoni. En esta playa tuvimos algunos problemas para llevar el equipo de los competidores a la misma, pero como de costumbre nos las arreglamos. Día 2 y 3 almorzamos en Surf Lounge Ibiza con suola artificial. Todos los días se dieron a los participantes camisetas, gorras, toallas y gafas de sol a los ganadores del día. El voluntario del día también recibió su regalo.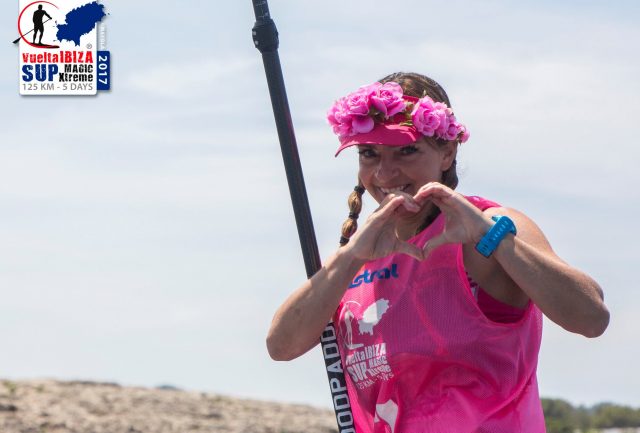 LA 4º etapa fue la más dura desde Cala Salada a Portinatx. Hermosos paisajes, pero sin bahías y con un viento de cara que rondaba los 25 km./h. Por razones de seguridad, tuvimos un barco extra de SUP Paradise Ibiza y para recoger a los participantes antes de las 13.00 horas. En este punto se recogieron a 2 riders del agua, uno de ellos más tarde regresó para completar la carrera. Portinatx era sin duda la bahía más relajante para terminar y empezar, nadie quería salir de allí. Las condiciones para el día 5 fueron mágicas, mar plano y muy caliente, la mayoría de los competidores llegaron antes de las 12 en nuestra casa de bahía Cala Llenya. La fiesta en la piscina con DJ Luca comenzó a las 14 y fue brutalmente interrumpida por la policía española, la siesta es sagrada en esta parte de Ibiza y nos pusimos a terminar de preparar la furgoneta Mistral para preparar el embarque a Barcelona.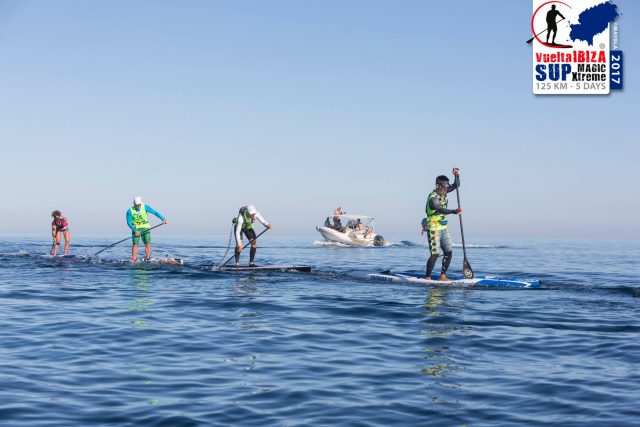 ¨Anne Marie Reichman sin ti no estaríamos donde estamos ahora con el Stand Up Paddlecen los Países Bajos y espero que estés allí el próximo año. Maru trajo el ¨paddlesport¨ a Ibiza y empezó con la Vuelta Ibiza, gracias por ello. Marije hiciste un montón de trabajo en la preparación de todo y, por desgracia, no pudistes ser parte de la carrera real en Ibiza, el año que viene hay una nueva oportunidad para hacerlo!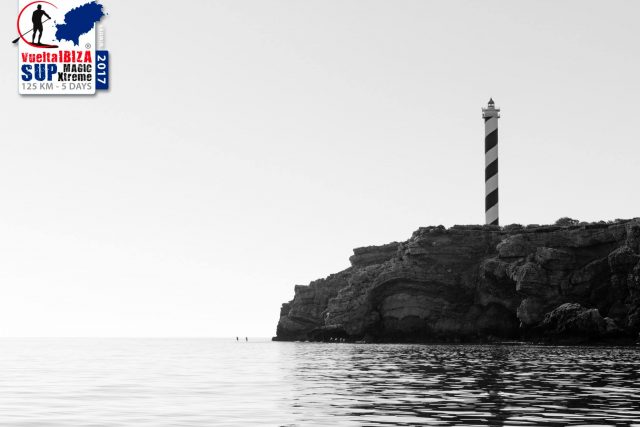 Agradecemos a todos los voluntarios por ayudar, riders por participar, RED Paddle por patrocinar, Legends Tracking por mantenernos en pista y Vrieservice por el 4G, Mundo Masaje Ibiza por mantener los músculos flexibles y Club Cala Azul por el gran servicio durante nuestra estancia. Uno especial muy grande:  ¡gracias a Mistral por apoyarnos  durante esta aventura y mantener la fe en nosotros!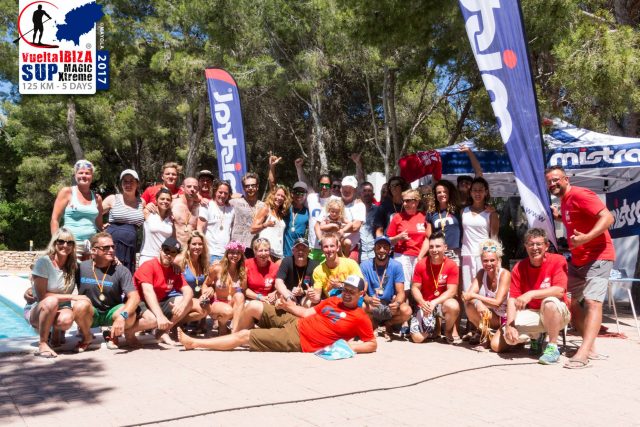 English Version Vuelta Ibiza SUP
Last week we were on Ibiza to paddle around this beautiful island, from beach to beach. The start was in Cala Llenya, very close to our hotel Club Cala Azul, side wind took the athletes to Talamanca where the finish of day one was. Beside seasickness there were no major issues on the first stage. Our main sponsor, Mistral, provided us with inflatable SUP boards, water matrassses, flags and most important their extra long, extra high Mistral Mercedes SUP Van. All the 14 ft boards could be transported from finish to our hotel every day, this made transport very easy. The only issue was how to get the boards from the water to the Mistral van, Kai and Jimmy took care of that.
Second stage took us from Playa d'en Bossa to Cala d'Hort, one of the beautiful small beaches on Ibiza. Next day we took off from the same beach and went to Cala Salada, a very busy beach near Sant Antoni. On this beach we had some issues to get the riders and their equipment to the beach, but as usual we managed. Day 2 and 3 we had lunch and price giving in Surf Lounge Ibiza with an artificial wave. Every day T-shirts, caps, towels and sunglasses were given to the day winners and runners up, since we have the policy that one price is enough almost every participant received a price during the week. Next to that the volunteer of the day also received a gift.
Stage 4 was the toughest one from Cala Salada to Portinatx, beautiful scenery but no bays and headwind the whole 25 k. For safety reasons we had an extra boat from SUP Paradise Ibiza and a point to be reached for the paddlers before 13.00 hr. At this point 2 paddlers were taken of the water, one of them later returned to here to complete the race. Portinatx was for sure the most relaxing bay to finish and start, nobody wanted to leave there. The conditions for day 5 were magical, flat sea and very hot, most paddlers arrived before 12 in our home bay Cala Llenya. The pool party with DJ Luca started at 14 and was brutally interrupted by the Spanish police, the siesta is sacred in this part of Ibiza and we could finish up packing the Mistral van to prepare for boarding to Barcelona.
Anne Marie Reichman without you we would not be where we are now with the paddlesport in The Netherlands and I hope you will be there next year. Maru brought the paddlesport to Ibiza and started with the Vuelta Ibiza, thank you for that. Marije you did a lot of work in preparing everything and unfortunately could not be part of the actual race on Ibiza, next year a new opportunity to do so!
I'd like to thank all the volunteers for helping, athletes for participating, RED Paddle for sponsoring, Legends Tracking for keeping us on track and Vrieservice for the 4G, Mundo Masaje Ibiza for keeping the muscles flexible and Club Cala Azul for the great service during our stay!
A special very big thank you to Mistral for supporting in all ways us during this adventure and keeping the faith in us!
Fuente: Vuelta Ibiza SUP . Marije, Aukje  & Ritske