La élite del SUP en Francia y Europa se preparan para el Villefranche Paddle Race los días 24 y 25 de Marzo de 2018 en la ciudad de Niza, Francia.
Primera parada del circuito francés de SUP Race, donde este evento ofrecerá diferentes formatos de carrera para riders de todos los niveles, durante dos días en la localidad de Villefranche's Bay.
Este es el proyecto de cuatro estudiantes, incluido el del rider francés Martin Letourneur: «Villefranche es uno de los primeros lugares que descubrimos cuando llegamos a Niza, la bahía es increíble para remar y al instante nos enamoramos de sus paisajes. La idea principal de Villefranche Paddle Race es ofrecer a todos la oportunidad de descubrir este lugar como lo hicimos nosotros, así que no hay mejor manera que un evento de SUP para ello «.
Con un prize money de 2.000€ y su alcance regional, el evento también es reconocido por el nuevo Paddle League World Tour como un evento Regional en Europa. Este estatuto especial ofrece un alcance internacional a los medios de comunicación y otorgará a los mejores competidores algunos puntos valiosos en SUP WORLD RANKINGS 2018 por la Paddle League / SUP Racer.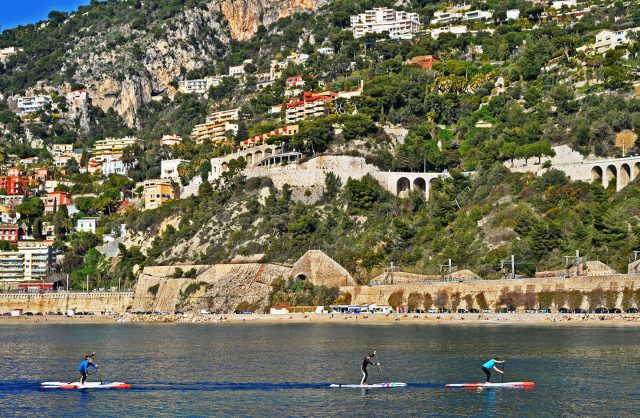 Durante el evento, los competidores de las categorías open y amateur también podrán disfrutar plenamente de la bahía durante las ¨Open Race¨ que están abiertas a CUALQUIER tipo de tabla. Desde el 9 'Paddlesurf board hasta el 18' Unlimited board o el Hobie Mirage Eclipse, los competidores también pueden unirse en un BIG SUP o en una DRAGON. El objetivo de estos formatos es reunir a los ¨superos¨ más apasionados para que todos se diviertan juntos en el agua y disfruten de las vistas de la bahía de Villefranche. También habrá Kid's Race dedicada a los jóvenes de entre 8 y 14 años para que puedan remar en un formato de carrera seguro y adaptado para ellos.
Inscripciones, recorridos y más información del Villefranche Paddle Race pinchando en la siguiente imagen:

English version
The French and European elite of stand-up paddle racing is lining up at the Villefranche Paddle Race on the 24th/25th of March 2018 in the city of Nice, France. First stop of the French national Tour of SUP racing, the event will offer different race formats for paddlers of all levels, during two days in the dreamy location of Villefranche's Bay.
This is the project of four students including the French athlete Martin Letourneur: "Villefranche is one of the first places we discovered when we arrived in Nice, the Bay is amazing for paddling and we instantly fell in love with the landscapes. The main idea of the Villefranche Paddle Race is to offer everyone the opportunity to discover this place as we did, so there is no better way than a SUP event for that."
With its 2000€ prize purse and its regional outreach, the event is also recognized by the new Paddle League World Tour as a Regional Event in Europe. This special statute offers an international media outreach and will award the best paddlers with some valuable points at the 2018 SUP WORLD RANKINGS by the Paddle League / SUP Racer.
During the event, open and leisure paddlers will also be able to fully enjoy the Bay during the « Open Races » which are open to ANY type of board. From the 9' Paddlesurf board to the 18' Unlimited board or the Hobie Mirage Eclipse, competitors are also allowed to team up on a BIG SUP or a DRAGON. The aim of these formats is to gather the more passionate paddlers for everyone to have fun together on the water and to enjoy the sights of Villefranche's Bay. There will also be Kid's Race dedicated to the young rippers between 8 and 14 years old so they can paddle on a safe, adapted and safe race format.
Fuente: Villefranche SUP Race