En unos días comienza el período de espera de uno de los eventos que muchos estamos esperando, el tan ansiado 2016 Red Bull Heavy Water de San Francisco, USA. Tercera prueba de este circuito Waterman League 2016 donde los mejores riders del planeta no faltarán a esta cita, muy exigente ya que buscan tener unas condiciones extremas de oleaje y todo tipo de obstáculos para que sea lo más atractiva posible.  Un evento en el que los competidores tienen que tener un gran nivel de conocimientos del mar, de fuerza y potencia, y capaz de soportar momentos de gran exigencia psicológica.
A continuación os dejamos con un triler del evento y posteriormente mas información del mismo:
ENGLISH VERSION (V.O)
The Lowdown
Specialty Long Distance Race (Men) from Ocean Beach to St. Francis Yacht Club
Stop #1 of the 2016 Stand Up World Series (one of 6 Long distance races in 2016)
Holding period: 1st – 28th September
Amber light to alert 10 days out / Green light 7 days out
Distance: 10 – 12km (exact distance may vary according to conditions on the day)
Surf Minimum for competition to run: 10ft faces
Prize-money: $50,000
1st place award: $20,000
Overview
Requiring the perfect mix of paddling skills, ocean knowledge, supreme fitness and the courage to take on one of the most intimidating stretches of coastline in the world, Red Bull Heavy Water will test the best of the best in the sport's most dramatic challenge
Set to a backdrop of one of the world's most iconic cities, an intense 12km course will see athletes leave from the notorious Ocean Beach to battle their way in & out of the surf towards the Golden Gate Bridge for the most challenging race the sport has ever seen
Once the laps through the surf have been completed the athletes will be out in the open ocean, passing spots where giant ships have gone down trying to make their way through treacherous waters into the safety of San Francisco Bay
On reaching the Golden Gate Bridge, they will finally be on the home straight for a sprint into the protected beaches of the City and a triumphant finish at the St Francis Yacht Club.
The obstacles to even completing the course will be impressive, as the athletes will have to draw on everything in them to come out on top:
1º. Completing the section through the 10ft + surf will require timing, fortitude and surfing skill to be able to navigate through one of the world's most impenetrable surf line-ups
2º. From there, the ocean swells and extreme currents will provide the next challenge for the World's best and most intrepid athletes
3º. While passing under the Golden Gate Bridge will be a relief, athletes will be hoping for the victory wave at Fort Point to carry them through to the Bay, as the pressure will be on to dig deep and find energy reserves for           the sprint to finish after the grueling 12km of punishment
4º. There can be only one Champion, as the best of the best from the World Championship Series will step up for a chance to be crowned supreme Champion of Red Bull Heavy Water
Course Map
The Red Bull Heavy Water Course mixes the dynamic Surf racing format witnessed in many of the World Series Sprints across the globe with a grueling 10 – 12km long distance course that will encounter some of the trickiest currents and obstacles imaginable. In short, one of the most challenging races ever undertaken.
It will all start at Ocean Beach, in front of the Beach Chalet property just North of Lincoln St. The course will run as follows:
1º. Athletes will start on the beach, then head out to the first buoy, outside of the surf zone
2º. A right hand turn will bring them back to the beach for a left hand flag turn in the shallows
3º. The race will then head out to buoy 3, for another right hand turn on the outside
4º. The athletes will hit land for the last time until they get into the safety of the Bay with the 2nd left hand flag turn in the shallows
5º. It is then back out to Sea to round buoys 5 & 6 (buoy to the right) where the athletes will encounter the treacherous and notorious Land's End
6º. It will then be a straight run (dependent on currents and athletes' ability to navigate the tricky waters) to the Golden Gate Bridge and the final right hand Buoy turn to come under the Bridge
7º. It is then a sprint to a water finish that will take place right before St Francis Yacht Club
8º. Here is an illustration of the Course for reference: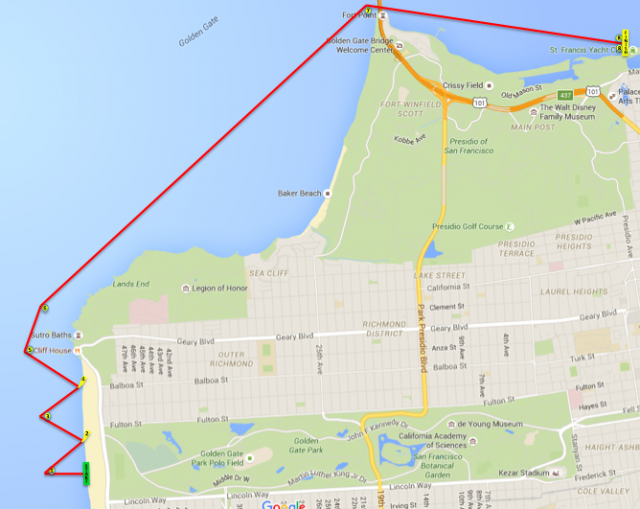 Fuente: Waterman League