El australiano Michael Booth ha ganado el EuroTour SUP 2017, logrando la 1º posición en cuatro eventos y ocupando el 2º puesto en otra de las carreras de este circuito.
El título como ganador del EuroTour SUP 2017 se confirmó en el San Sebastián Paddle el fin de semana del 17 al 18 de junio; la séptima prueba del circuito. Y su dominio continuó en la siguiente prueba, el Mercedes-Benz SUP World CUP de Scharbeutz en Alemania. Aunque el EuroTour tenga 10 pruebas y con otros 3 por delante, la ventaja de Booth es significativa.
Originalmente de Newcastle, Booth, que ahora llama Perth a casa, irrumpió en la escena de carreras de SUP hace sólo tres años. Sin embargo, no es ajeno al agua. Ha competido y ha representado a Australia en el Campeonato del Mundo en SUP, Sprint Kayaking, Ocean Ski y Surf Life Saving. En noviembre, el competidor de Starboard Booth fue coronado Campeón del Mundo ISA SUP Marathon después de ganar el 2016 Fiji ISA World SUP Championship, una carrera de 17 kilómetros de Cloudbreak a Musket Cove. Ahora, el EuroTour SUP 2017 ha sido añadido a su creciente lista de elogios. Podéis ver una entrevista realizada por Up Suping a Michael en Up#16: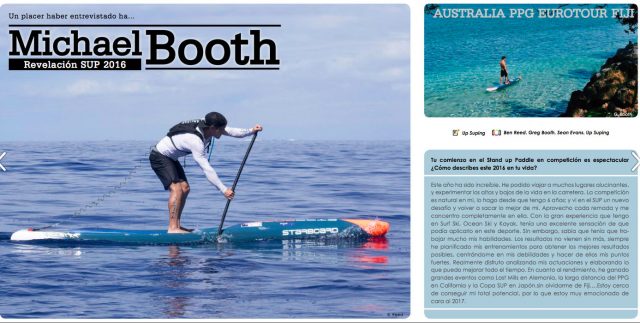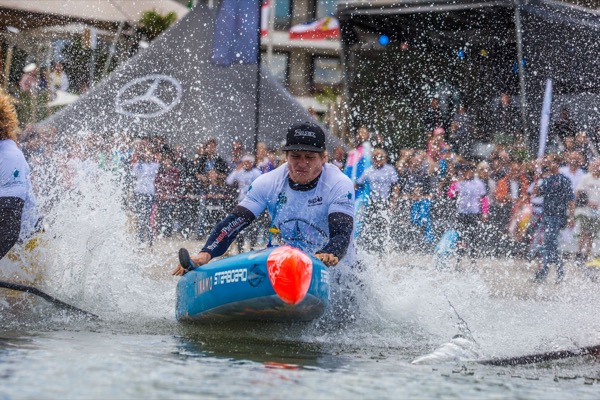 Michael Booth en el Mercedes-Benz SUP World Cup Scharbeutz, Alemania, sprueba #8 EuroTour SUP.
Fhoto: Georgia Schofield
La campaña EuroTour SUP 2017 de Booth comenzó cuando ganó la SUP Race Cup en Sainte Maxime en el sur de Francia en Mayo; en su 3º prueba:
«Sainte Maxime fue el primer evento de mi gira y supe que era importante empezar fuerte. Después de terminar tercero en el primer día en la Beach Race y a 16 segundos de la cabeza de carrera, al día siguiente en la larga distancia estuve en el pelotón  durante los primeros 10 kilómetros, hice mi descanso, recuperé fuerzas y nunca miré hacia atrás «, dijo Booth, de 26 años. Ganó por casi dos minutos, consolidando la victoria total para el fin de semana.
Una semana después, en Hossegor, en la costa oeste de Francia, Booth terminó segundo en la carrera de surf de 4 kilómetros y en la carrera de 9 kilómetros de larga distancia, terminando en el segundo lugar en la general. Fue un ¨mano a mano¨ con el número uno  Connor Baxter:
«Hossegor no esperaba que fuese un evento tan bueno, así que fue un enorme refuerzo de confianza para mí y me puso en una posición más fuerte para la clasificación general, que fue mi objetivo este año. A partir de entonces, me concentré en ganar el campeonato «, dijo Booth.
El Thonon-Les-Bains Wue SUP Crossing de Suiza a Francia fue muy importante para el rendimiento de Booth, ganando convincentemente por más de dos minutos. Booth gobernó durante los 18 kilómetros de Lausana a través del lago de Ginebra a Thonon con una salida muy rápida.
Con el título EuroTour SUP 2017 a tiro, nada iba a detener a Michael en el Iberdrola Bilbao Wold SUP Challenge en el País Vasco España, 6º prueba. La emocionante carrera de agua plana termino en un gran sprint:
«Este era mi objetivo. Sabía que si ganaba en Bilbao podría ganar el EuroTour, que es el mayor circuito de SUP fuera de la Serie Mundial. ¡Estoy feliz! «Dijo Booth.
Después de ganar nuevamente en San Sebastián y en la 8º prueba de Alemania, el dominio de Booth se ha consolidado como el ¨paddler¨ más fuerte de este verano europeo.
«Ha sido increíble competir en Europa y muy bien contra los mejores riders de SUP del mundo. El EuroTour es un gran logro, he trabajado duro y estoy muy orgulloso de ganar. Fue uno de las metas de este año y es tan impresionante! No podría hacerlo sin el fuerte apoyo que he recibido de Starboard, Shaw & Partner e Imano, así como mi preciosa novia Kristy «.
Booth dijo que regresaría a Perth (Australia Occidental) para una breve pausa antes de comenzar el entrenamiento para el Campeonato Mundial ISA en Dinamarca en septiembre.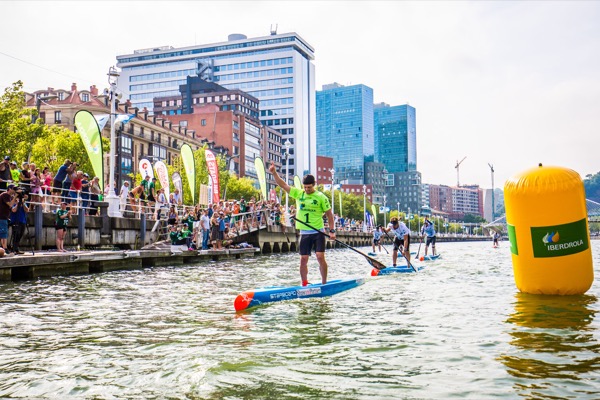 Michael Booth llegando a meta en el Iberdrola Bilbao World SUP Challenge & EuroTour SUP. Foto: Georgia Schofield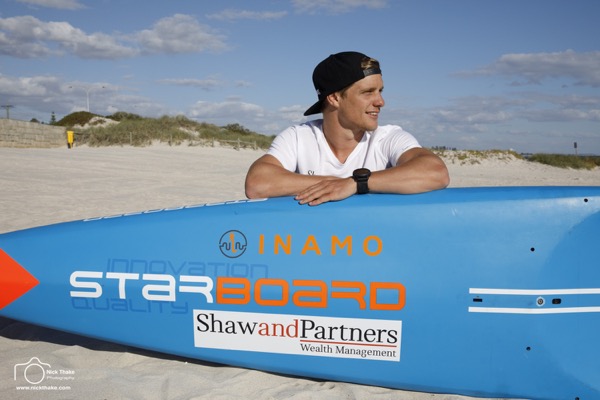 Michael Booth waterman. Foto: Nick Thake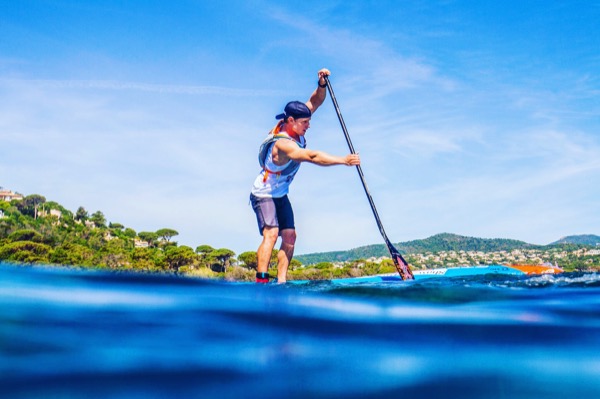 Michael Booth 2017 EuroTour SUP Champion. Foto: Georgia Schofield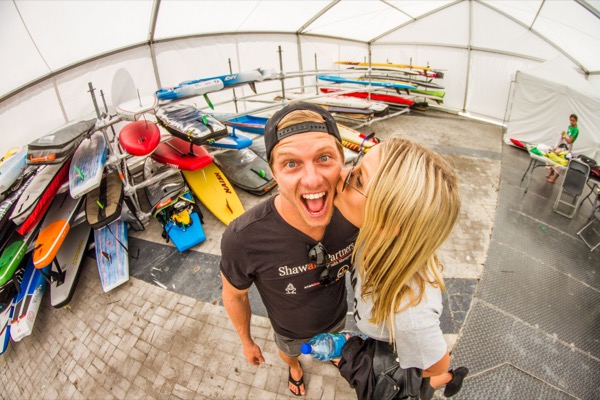 Michael Booth junto a su noviaKristi Dreibergs
ENGLISH VERSION
Australian Michael Booth wins EuroTour SUP Championship
Australian Michael Booth has won the 2017 EuroTour Championship, winning four events and coming second in another of the EuroTour's prime-star Stand Up Paddle (SUP) races.
Booth's EuroTour Champion title was confirmed at the San Sebastian Paddle Tour in Spain on the weekend 17-18 June; the seventh stop of the EuroTour SUP. And his dominance continued last weekend winning at stop #8, the Mercedes-Benz SUP World Cup Scharbeutz in Germany.
There are 10 stops on the Euro Tour with stops #3 to #7 weighted the most in points. Even with three events to go, Booth's lead meant he couldn't be beaten.
Originally from Newcastle, Booth, who now calls Perth home, burst onto the SUP racing scene just three years ago. However, he is no stranger to the water. He has competed and represented Australia at World Championship level in SUP, Sprint Kayaking, Ocean Ski and Surf Life Saving.
In November, Starboard competitor Booth was crowned ISA SUP Marathon World Champion after winning the 2016 Fiji ISA World SUP Championship, a 17-kilometre marathon race from Cloudbreak to Musket Cove. Now, EuroTour Champion has been added to his growing list of accolades.
Booth's EuorTour campaign started when he won the SUP Race Cup in Sainte Maxime in the south of France in May; stop #3.
"Sainte Maxime was the first event of my tour and I knew it was important to start out strong. After finishing third on the first day in the beach race, I was only 16 seconds behind going into the distance the following day. After sitting in the pack for the first 10 kilometres, I made my break on the turn home and never looked back," 26-year-old Booth said.
He won by nearly two minutes, cementing the overall win for the weekend.
One week later at stop #4 in Hossegor on the West Coast of France, Booth finished second in the 4-kilometre surf race and third in the 9-kilometre distance race, finishing the event second overall. He went toe-to-toe with world ranked number one Hawaiian Connor Baxter to only just get beaten.
"Hossegor wasn't an event I expected to do well in, so it was a huge confidence booster for me and put me in a stronger position for the overall series, which was my goal this year. From then, I focussed on winning the championship," Booth said.
Stop #5, the Thonon-Les-Bains Wue SUP Crossing from Switzerland to France was a powerful performance from Booth, winning convincingly by more than two minutes. Booth capitalised on the chop of the 18-kilometre paddle from Lausanne across Lake Geneva to Thonon to breakaway early.
With the EuroTour title ready for the taking, nothing was going to stop Booth at the Iberdrola Bilbao Wold SUP Challenge in Basque Country Spain, stop #6. The exciting flat-water race came down to a sprint finish.
"This was the one I wanted – I knew that if I took victory in Bilbao I could win the EuroTour which is the biggest SUP tour outside the World Series. I'm stoked!" Booth said.
After winning again at stop #7 San Sebastian and stop #8 in Germany, Booth's dominance has cemented his position as the strongest paddler this European summer.
"It has been awesome to compete in Europe and race well against the best SUP racers in the world. The EuroTour is a huge achievement – I've worked hard and I'm really proud to win. It was one of goals for this year and it feels so awesome! I couldn't do it without the strong support I've received from Starboard, Shaw & Partner and Imano, as well as my gorgeous girlfriend Kristy."
Booth said he would return to Perth (Western Australia) for a short break before commencing training for the ISA World Championships in Denmark in September.
Fuente: Dianne Bortoletto, Pronto PR