Ya empiezan a salir a la luz los diferentes eventos y circuitos de Stand Up Paddle, tanto a nivel nacional como internacional. Uno de los más importantes es el EuroTour, que ya tiene forma de cara al 2016.
13 pruebas por toda Europa darán mucho espectáculo a todos los amantes de este deporte, donde podremos ver a grandes figuras internacionales. En nuestro país, este tour tendrá 2 paradas muy importantes. El ya conocido por todos Iberdrola Bilbao Wolrd SUP challenge que se realizará los días 4 y 5 de Junio. Y también habrá una prueba la semana siguiente muy cerca, el San Sebastian Paddle Tour; que será durante los días 11 y 12 de Junio. Apuntar en vuestras agendas estas fechas porque seguro que habrá mucho espectáculo.
Up Suping será uno de los ¨media partners¨ oficiales del EuroTour este año. Y es por ello que les mantendremos informados de todos sus eventos en nuestra web y además habrá artículos en los diferentes números de nuestra revista a lo largo de este año. A continuación les dejaremos con más información por parte de la organización del tour en inglés, y no olviden visitar su web. Y también podrán ver las diferentes pruebas y sus respectivas fechas. ¡EuroTour 2016 en marcha!
¨Welcome to the 2016 EuroTour, home of the best stand up paddle races in Europe. The EuroTour was established in 2015 to bring together the top races and paddlers in Europe, with a goal of unifying events and making them more accessible for racers with logistical support.
Europe is home to some of the most enthusiastic paddlers in the world. There was a common need across the continent to bring the local paddling communities together, to help grow and unify grassroots events and help them move to the next level.
This year in addition to all of Europe's most iconic races, we have a few new comers starting with Oporto, San Sebastian, Croatia, Finland, Noli (Italy) and finally rounding off the season in the Hawaii of Europe – the Azores. Hitting 9 countries for 13 races over the start of summer this year's battle ground for the EuroTour championships really is the best Europe has to offer.
After it's inaugural year being a huge success – running on the back of some enthusiastic volunteers – the tour has developed further, with dedicated full time staff to ensure complete coverage of the races and attendance at all events. A new website www.eurotoursup.com is the hosting space for information on events, athletes, rankings and all things EuroTour. And, importantly, improvements to the transport logistics to help racers get their equipment between races; including the ability to carry more boards and an online booking system for racers to reduce all those last-minute headaches that no athlete likes.
While the tour plays host to the best paddlers in Europe and many of the World top athletes, the events are set up to encourage participation from all paddling backgrounds. Races include amateur and junior divisions for both Women and Men (please see individual events for more information). As part of the growth of the EuroTour we particularly want to encourage development within the Juniors age group. We are looking to reward those champions with equipment prizes to help further their paddling prowess including boards, paddles and other gear.
To increase participation from the worlds best athletes the EuroTour is working closely with all events on tour to attract the best pool of talent from the sport. As a novelty for 2016, Elite athletes that placed in the Overall Top10 for EuroTour 2015 Women & Men as well as athletes that are currently placed Top15 Women & Top30 Men in the Sup Racer World Rankings will receive personal invites from EuroTour with free race entry to all events.
But perhaps the biggest highlight for racers both pro's & amateurs alike is the fact that all 13 events take place in some of the most idyllic locations in Europe. All have much more to offer than SUP racing, making them ideal venues for a fun weekend that the whole family can enjoy.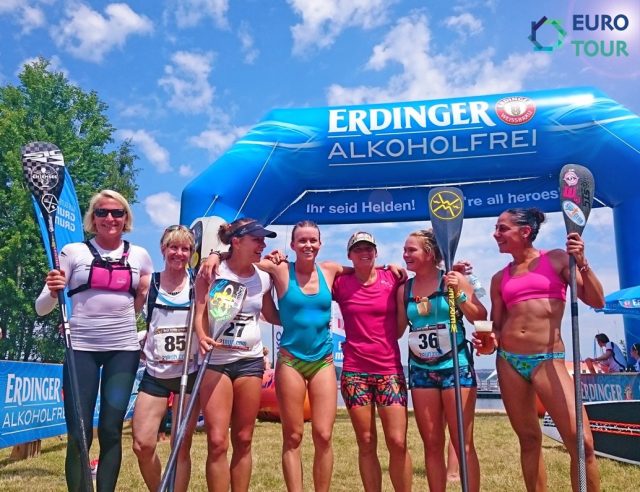 The EuroTour 2016 leaderboard will again be based on Sup Racer World Rankings (the most unbiased system in the sport) with no set points for events this year's edition. This means that every event weight percentage will be calculated based on participation levels from the Top ranked athletes for both Women & Men¨
Everyone at EuroTour is very excited to get the 2016 season underway and can't wait to show you all the improvements we have put into this year's edition. Our friends at supracer.com sum it up best "Whether you're an international athlete, a hometown hero or a first time paddler, the EuroTour is for you."
Tour manager Belar Diaz : "We are really looking forward to this year's edition of the EuroTour. We've had a fantastic response from the events that participated in 2015 and have had overwhelming requests from new events wanting to join us for this race season. There's a lot to look forward to with some fantastic locations and we're thrilled to offer this to the riders."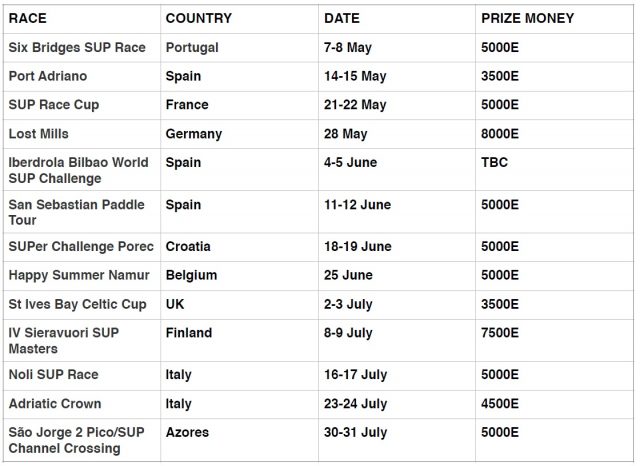 Fuente y fotos: www.eurotoursup.com