Por segunda vez, el 42 veces campeón del mundo de windsurf, Bjorn Dunkerbeck, organiza del 15 al 18 de Diciembre el «Gran Canaria Pro / Am Costa Mogán» en la Playa de Mogán. Después de su exitoso evento del año pasado con más de 80 participantes de toda Europa y Canarias, la segunda edición acoge de nuevo el Campeonato de Europa por Waterman League y será la última parada de la gira española y canaria. La organización espera 100 participantes en todas las categorías: open, infalbles, all round, hombres, mujeres, junior y niños compitiendo en tres disciplinas diferentes.
Viernes, 16.12
Se iniciará la carrera de downiwnd en Puerto de Mogán, donde todos los competidores abordarán el ferry «Blue Bird» con su equipo hasta Arguineguin, desde donde los participantes remontan el downwind (aprox. 15k) a lo largo de la hermosa línea de costa desde Gran Canaria hasta Playa Mogán.
Sábado 17.12
Se llevarán a cabo las carreras técnicas en todas las categorías.
Domingo 18.12
Carrera de Larga Distancia donde se coronará el Campeón de Europa en cada categoría (Junior, Open, Master masculino y femenino, 12,6¨, 14¨ e inhcables) .
Este deporte está creciendo mucho en toda Europa y los organizadores esperan la presencia de riders europeos y canarios de alto nivel. Gran Canaria ofrece un clima perfecto con una temperatura del aire de 25º, lo que permite practicar SUP en pantalones cortos en el mes de Diciembre.
Información e inscripción: sup.dunkerbeck@gmail.com
Todos los competidores españoles y canarios inscriben en el siguiente sitio web: www.fcsurf.es
English Version
For the second time the 42 times windsurfing world champion Bjorn Dunkerbeck organizes from 15th till 18th of December the "Gran Canaria Pro/Am Costa Mogán stand up paddle race in Playa de Mogán. After a successful event-start last year with more than 80 participants from all over Europe & the Canary Islands, the second edition will host again the European Championships by Waterman League, and will be the last stop of the Spanish and Canarian tour. The organization is expecting 100 participants in all categories Open, inflatables, all round, male, female, junior, kids competing in three different disciplines.
Friday, 16.12. will start the downwind race in Puerto de Mogán where all competitors will board the "Blue bird" ferry with their equipment to Arguineguin from where the participants paddle downwind (approx. 15k) along the beautiful cost line from Gran Canaria, to Playa Mogán. Saturday will be held the technical races in all categories and Sunday the supreme discipline- the Long-Distance races where will be crowned the European Champion in each category (Junior, open, master á male & female, 12,6ft, 14ft and inflatables).
The sport is growing a lot in all over Europe and the organizers are expecting entrees of high leveled European and Canarian athletes. Gran Canaria offers a perfect climate with 25 degrees air temperature what allows SUP boarding in board shorts in December.
Info & inscription: sup.dunkerbeck@gmail.com
All Spanish & Canarian riders inscribe on the following website: www.fcsurf.es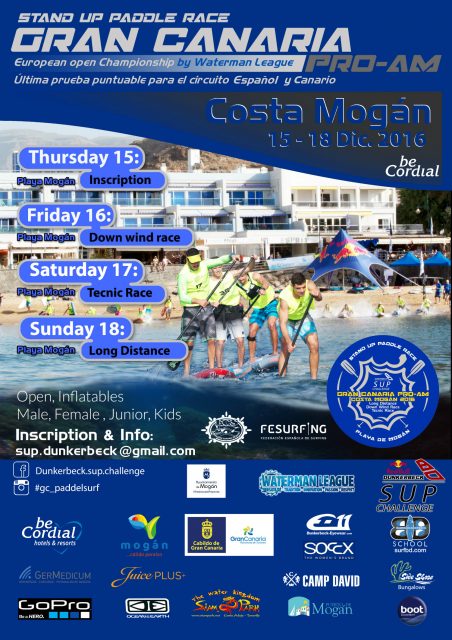 Fuente: Bjorn Dunkerbeck