Gran éxito el Iberdrola Barcelona SUP World Series, siendo la 1º prueba de la Waterman League del 2015. El equipo de Up Suping se ha desplazado hasta la ciudad condal, siendo media partner oficial junto a nuestros compañeros de Total SUP. Era un evento que nadie se podía perder, tanto riders como aficionados a este deporte…se respiraba Stand Up Paddle por todas partes. Sin duda alguna una gran experiencia para todos; y que lo contaremos con más detalles en el próximo número de Up Suping…Up#11. Mientras tanto les vamos a dejar con la nota de prensa oficial por parte de Stuart Howells de la Waterman League y un enlace con fotos de nuestro colaborador Albert Laborda. Todo esto para que vayáis viendo lo que ha sucedido en Barcelona hasta que tengamos Up#11 online. Disfrutad superos!!!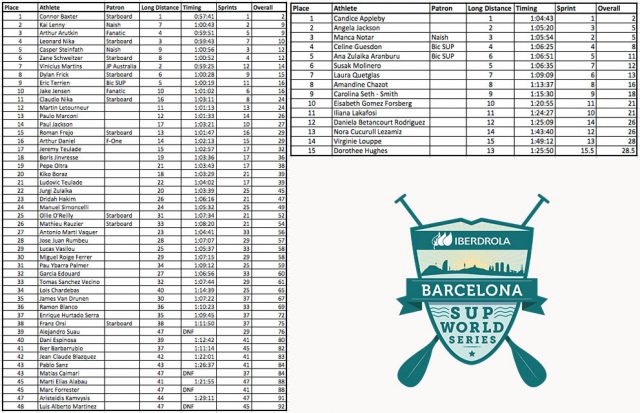 ¨Connor Baxter (Starboard) puts on an awesome display of sprint paddling to take his second win here in Barcelona and take the Overall Win at the Iberdrola Barcelona Sup World Series.
Dominant all through the Sprints – Connor went through the motions in the early rounds leading up to the Semi's where he really turn on the power and stormed over the line. It was a similar story in the Final, getting a great start he was battling with Kai Lenny (Naish) straight out to the first buoy. Finding fifth gear he was able to round the top buoy first and Kai Lenny pushed him all the way but was not able to catch the electric Hawaiian who crossed the line in first. Connor, who makes it two bullet wins goes top of the 2015 SUWS Leaderboard after Stop 1 and shows the rest of the athletes his intent for the rest of the World Series¨.
¨Candice Appleby wins the Womens Finals and takes out the overall win here on the first stop of the 2015 Women's #SUWS in Barcelona. Showing her athleticism and she was able to ease through Round 1 straight into the Final. Choosing an inside line straight out to the first buoy she was unstoppable. An awesome beach start meant she lead straight from the buzzer. The up and coming youngster Manca Notar (Naish) put on a strong show in second to try and catch the American but round the first buoy Candice just had too much in the tank and was able to storm to victory. Despite having to borrow Quickblade team-mate, Casper Steinfath's board (as her's had not arrived) she now tops the 2015 Women's #SUWS Rankings¨.
Mens Overall Top 10 Results:
1. Connor Baxter (Starboard)
2. Kai Lenny (Naish)
3. Arthur Arutkin (Fanatic)
4. Leonard Nika (Starboard)
5. Casper Steinfath (Naish)
6. Zane Schweitzer (Starboard)
7. Vinnicius Martins (JP Australia)
8. Dylan Frick (Starboard)
9. Eric Terrien (Bic Sup)
10. Jake Jensen (Fanatic)
Women's Overall Top 8 Results:
1. Candice
2. Angie Jackson (by 3.2 sec)
3. Manca (Naish)
4. Celine Guesdon (Bic Sup)
5. Ana Zulaika Aranburu (Bic Sup)
6. Susak Molinero
7. Laura Quetglas
8. Amandine Chazot
Fuente: Stuart Howells (Waterman League)
Fotos: Albert Laborda