Agios Nikolaos On SUP 2017 – Stop #1
La primera prueba del EuroTour tuvo lugar en Creta, Grecia, del 28 de abril al 29 de abril: ¨El Agios Nikolaos en SUP 2017¨. Como siempre, Grecia no decepcionó con sus hermosas vistas y buen tiempo para abrir el EuroTour 2017. La competición comenzó el Sábado por la mañana con los carreras para Amaterus y  Juniors,  donde se vieron a muchos participantes griegos en Elonda Beach, parte del área de Agios Nikolaos.
Por la tarde, la Red Paddle Co. Dragon race tuvo lugar para el deleite de los competidores Amateur y Elite por igual. Las nuevas tablas de 22 'de largo, donde caben 4 riders a la vez y siguendo un formato de sprint exclusivo en una carrera muy apretada. Al final del día, el equipo griego local ¨Chania Surf Club¨ derrotó a los equipos internacionales llevando a casa el oro en una tarde muy entretenida para todos.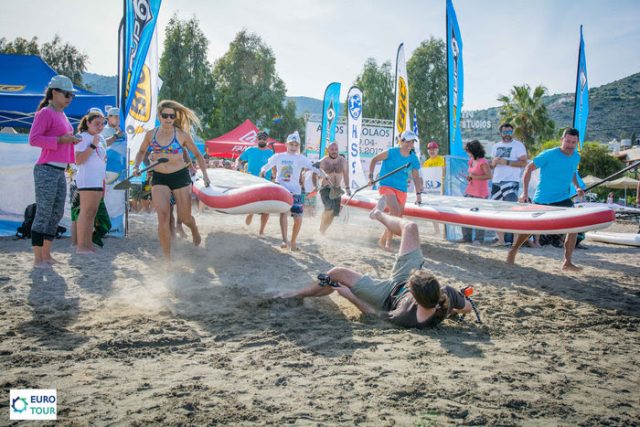 La principal prueba, la carrera de élite de 15 kilómetros de distancia de la playa de Agios Panteleimonas, donde se vieron impecables condiciones de viento en los primeros 10 km. Con rachas de 20-25 knts/h de viento recto, los competidores prácticamente volaron hasta llegar a la isla de Agioi Pantes. Luego un kilómetro de viento lateral rodeando la costa de Crete para los 5km restantes. La carrera tuvo un giro dramático cuando el mismo viento del sur se volvió ahora para crear un fuerte viento de cara hasta la línea de meta.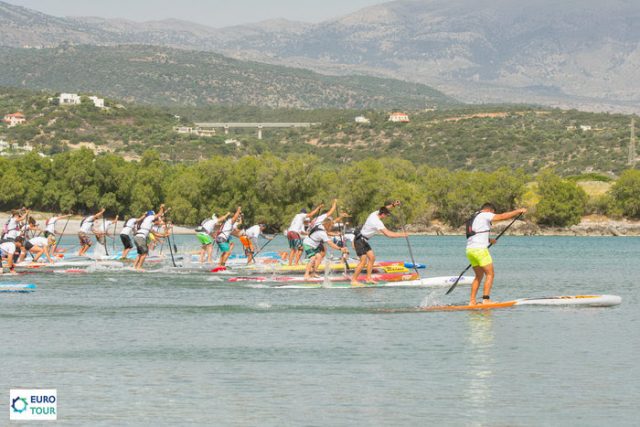 En la carrera de las mujeres la neozelandesa Penelope Strickland (Starboard) se mantuvo líder todo el camino, ya que  el viento sólo pudo fortalecer su ventaja; estas condiciones golpearon a muchos de los hombres en el carrera para terminar en 14ª posición en la general y ganar la competición. En segundo lugar, la española residente residente en Italia Susak Molinero (QB) ofreció mucho espectáculo al mantenerse en línea con la alemana Susanne Lier (QB), residente de Canarias, en una sólida actuación que le valió el último lugar por el price money. Cerrando el pódium, la windsurfista italiana Caterina Stenta; mostrándose en buena forma y su gran versatilidad con el SUP terminando en 4º posición. Y la griega Iliana Lakafosi (Starboard) en el quinto.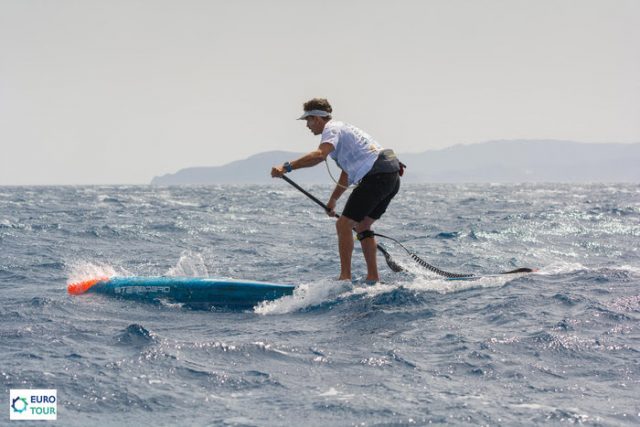 La carrera de los hombres fue dominada por Leo Nika (Starboard)  de principio a fin, sin mostrar signos de flaqueza como el rider más ganador en la EuroTour del año pasado con cinco victorias. De manera similar a su compañera de equipo Penelope Strickland, el italiano controló el viento para ganar cómodamente sobre un rider en gran forma Paolo Marconi (QB), que tuvo una actuación sólida para ocupar el segundo lugar en la general de Agios Nikolaos en SUP 2017.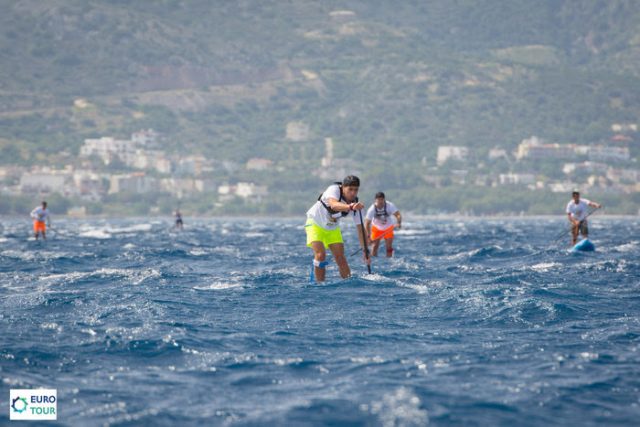 Mención especial para al francés Ludovic Teulade que se encontraba en segundo lugar en la parte final del upwind cuando su pala de repente se rompió terminando sus posibilidades de terminar la carrera; le volveremos a ver en Bélgica en la 2º prueba del EuroTour.
En un sólido tercer lugar, el recién llegado italiano Federico Esposito mostró grandes signos de forma física; le veremos en unos cuantos pódiums este verano. Pero la historia del caballo oscuro pertenece al héroe griego Frangos Giorgios que sorprendió a muchos con una gran habilidad con el viento y se quedó con el tren delantero  para terminar en un muy respetable 4º lugar.
Termina el Top 5 Giordano Capparella de Italia con otra gran carrera por su parte. El mejor clasificado italiano de la Carolina Cup y uno de los mejores europeos Martino Rogai, tuvo un regreso muy fuerte en la sección de viento para terminar en sexto lugar. El hermano mayor de Ludovic, Jeremy Teulade, siguió en un respetable séptimo lugar. Claudio Nika (Starboard) finalizó en octavo lugar. Las posiciones menores del pódium fueron ocupadas por el griego Prapas Alexandros en el noveno puesto y un renovado Paul Lenient de Tahití que parece haber tenido una buena pretemporada con otro buen regreso en upwind.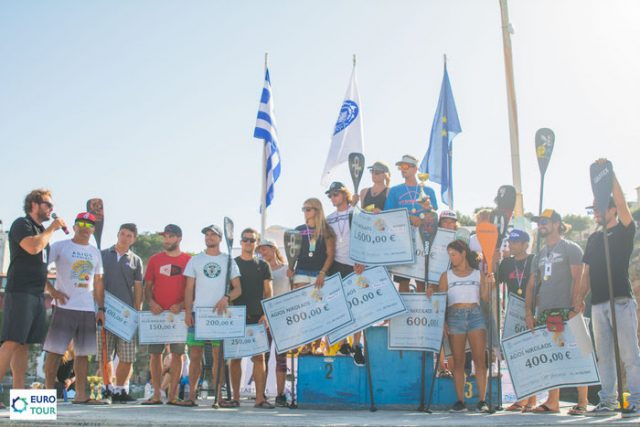 La ceremonia de clausura se realizó en la hermosa laguna de Agios Nikolaos en medio de la ciudad, donde el público dio la bienvenida a los competidores con entusiasmo. Realmente ha sido un evento asombroso, queremos agradecer a todos los patrocinadores por hacerlo posible, y todos los voluntarios y el personal por dedicar incontables horas para el evento. Mención especial a Mikhalis Farsaris y a todo su equipo por toda la dedicación.
RESULTADOS
Agios Nikolaos en SUP 2017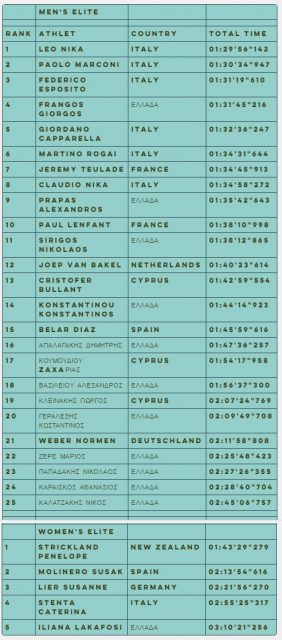 ENGLISH VERSION
The 1st stop of the EuroTour took place in Crete, Greece from April 28th and April 29th. The Agios Nikolaos On SUP 2017. As always Greece didn't disappoint with beautiful sights and great weather to open the EuroTour 2017 in style. The competition started on Saturday morning with the amateur events and Junior races that saw many stoked Greek paddlers enjoyed Elonda Beach, part of the Agios Nikolaos area.
In the afternoon the Red Paddle Co. Dragon race took place for the delight of Amateur and Elite competitors alike. The new boards 22' long fit 4 riders at a time and follow an exclusive sprint format that saw competitors blitz through the tight course. At the end of the day the local Greek team Chania Surf Club defeated the International teams bringing home the gold in a very entertaining afternoon for everyone.
The headline event, the Elite 15km long distance race from Agios Panteleimonas Beach saw flawless downwind conditions for the first 10km where 20-25knts straight South wind conditions had competitors fly through the course until they reached the Island of Agioi Pantes where things changed into a severe sidewind for a challenging kilometre until the competitors hugged the Crete shore for the remaining 5km. Things however had a dramatic turn when the same beautiful south wind now turned to create a straight 25knots headwind all the way to the finish line.
On the women's race it was New Zealand Penelope Strickland (Starboard) all the way, as she dropped her competition on the downwind only to strengthen her lead as conditions worsened and beat many of the men in the process to finish 14th overall and winning the women's competition. The Kiwi relish the conditions and told us, how much this type of paddling reminded her of back home. In second place the Spaniard turned Italian resident Susak Molinero (QB) had a very impressive show keeping in line Germany's turned Canary Island resident Susanne Lier (QB) in a solid performance that earned the last place for the money. Closing out the podium was Italian windsurfer Caterina Stenta; showing some good form and versatility crossing over to SUP in 4th and Local Greek talent Iliana Lakafosi (Starboard) in 5th.
The mens race was dominated by Leo Nika (Starboard) that led from beginning to end, showing no signs of slowing down as the winningest athlete on last year's EuroTour with five victories. In a similar fashion to his teammate Penelope Strickland, the Italian controlled the downwind section and led the grueling upwind to win comfortably over an in form Paolo Marconi (QB) that had a solid performance to come in second place overall.
Special mention goes to Frenchman Ludovic Teulade that was sitting in second place in the final stages on the upwind when his paddle suddenly broke ending up his chances of finishing the race; we will surely see him back with a vengeance in Belgium for stop #2.
Coming into a solid third  place was Italian newcomer Federico Esposito showing some great signs of form; we should be seeing him at a few podiums this summer. But the dark horse story belongs to Greek hero Frangos Giorgios that surprised many with s solid downwind performance and stayed with the front pack during the upwind section to finish in a very respectable 4th place.
Rounding up the top 5 was perennial contender Giordano Capparella from Italy with another solid showing. Last weekend's Carolina Cup top ranked Italian and one of the top ranked Europeans Martino Rogai had a very strong comeback on the upwind section to finish in 6th place. Ludovic's older brother Jeremy Teulade followed in a respectable 7th place. Claudio Nika (Starboard) another brother, in this case Leo's  followed in 8th place. The minor placings of the podium were filled by Greece's Prapas Alexandros in 9th place and a renewed Paul Lenient from Tahiti that seems to had a good pre-season with another good come back in the upwind.
The closing ceremony was next with the podiums and awards being handed in the beautiful Agios Nikolaos lagoon in the middle of town were the lively public welcomed the competitors with enthusiasm.
Truly an amazing event, we really want to thank all the sponsors for making it possible and all the volunteers and staff for devoting countless hours for the event. Special mention to Mikhalis Farsaris and his entire team for all the dedication.
Fuente: EuroTour